Our Need to Pray
"I pray that those who read Our Need to Pray will find a closer walk with Jesus. That they will recognize their great need for prayer, for communion, and a friendship with our Great God. That they will witness His Presence in their lives 24 hours-a-day."
– Lorraine West, Your Woodside SDA Prayer Warrior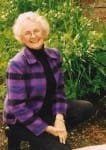 In 2001, I became the Prayer Coordinator for the Woodside Seventh-day Adventist Church, and so began my ceaseless study on prayer.
I found that I had in my personal life (where prayer was concerned) just barely touched the tip of the iceberg. I realized that my walk with God was something that I could not do when I got around to it. This focus on prayer turned my whole world around, with God now at the center.
So I started emailing my family & friends, little gems that I had gleaned for myself. Soon, it was reaching out around the world as those messages I sent were forwarded on. So has it grown since; it's really God's work; He thought of it first.
Praise God for never giving up on me. He won't give up on you either; just be sure to spend lots of time with Him!
I'm a wife, mother, grandmother, and great-grandmother and have been a Seventh-day-Adventist Christian for over 46 years. With Jesus as my Saviour, friend and companion, this time with Him has passed so very quickly; He constantly blesses me; and I am so very thankful.
The Latest "Our Need to Pray"
Our Need to Pray: April 15, 2015

"During the economic collapse of October 2008, a Stamford, Connecticut, man threatened to blow up a bank.  When he lost $500,000 of his $2,000,000 portfolio, he planned to bring a gun into the facility and take the lives of innocent people if necessary.  As if a shooting spree would do anything to restore his loss.  Fear has never been famous for its logic.

If there were no God, stuff-trusting would be the only appropriate response to an uncertain future.  But there is a God.  And this God does not want his children to trust money.  He responded to the folly of the rich man with a flurry of "Do not worry" appeals.  "Do not worry about your life. . . .  Do not seek what you should eat or what you should drink, nor have an anxious mind" (Luke 12:22, 29).

Don't follow the path of the wealthy bumpkin who was high on financial cents but impoverished of spiritual sense.  Instead, "Do not fear, little flock, for it is your Father's good pleasure to give you the kingdom" (V. 32).  This is the only occasion when Jesus calls us his "little flock."

I once rode on horseback with a shepherdess through the Black Mountains of Wales.  The green valleys were cotton-puffed with heads of sheep.  We came upon one member of the flock that had gotten herself into quite a fix.  She was stuck on her back in the rut of a dirt road and couldn't get up.

When the shepherdess saw her, she dismounted from her horse, looked at me and chuckled.  "They aren't the brightest of beasts."  She righted the animal, and off it ran.

We aren't brightest of beasts either.  Yet we have a shepherd who will get us back on our feet.  Like a good shepherd, he will not let us go unclothed or unfed. "I have never seen the godly abandoned or their children begging for bread" (Ps. 37:25 NLT).  What a welcome reminder!  When homes foreclose or pensions evaporate, we need a shepherd.  In Christ we have one.

Giving characterizes God's creation. . . .  He produces in pluralities: stars, plants, birds, and animals.  Every gift arrives in bulk, and multiplies, and medleys.

Scrooge didn't create the world; God did.

Psalm 104 celebrates this lavish creation with twenty-three verses of itemized blessing; the heavens and the earth, the waters and streams and trees and birds and goats and wine and oil and bread and people and lions.  God is the source of "innumerable teeming things, living things both small and great . . . .  These all wait for You that You may give them their food in due season" (vv. 25, 27).

And he does.  God is the great giver.  The great provider.  The fount of every blessing.  Absolutely generous and utterly dependable.  The resounding and recurring message of Scripture is clear: God owns it all.  God shares it all.  Trust him, not stuff!

"Adversity is sometimes hard upon a man," wrote Thomas Carlyle, "but for one man who can stand prosperity, there are a hundred that will stand adversity." . . .  The poor man prays and works; God hears and blesses."  Fearless pp 107, 108 by Max Lucado, Thomas Nelson

Benefits of a Low-Carb Plant-based Diet

Researchers wanted to find a heart healthy alternative to the typical low-carb Atkins-style weight loss diets. This small, randomized, control trial used 23 participants. Those on a low-carb, plant-based diet lost 4 more pounds and had 10% lower LDL (bad cholesterol) than those on a high-carb plant based diet. Most low-carb diets increase the intake of animal proteins and fats which can boost HDL (bad cholesterol).

PositiveTip: Replace high calorie, fatty foods with plant-based options for better health.

Continue reading →