JOY (Just Older Youth) enjoying a trip to the Sacramento Zoo and looking forward to future fun activities.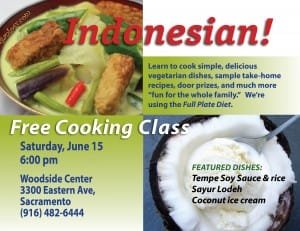 Learn to cook simple, delicious, vegetarian dishes, sample take-home recipes, door prizes and much more "fun for the whole family" at this months free vegetarian cooking class:
Indonesian!
Saturday, June 15th, 2013 @ 6pm
This months class will focus on several delicious, nutritious meals including: Tempe Soy Sauce & Rice, Sayur Lodeh & Coconut Ice Cream.
For more information call 916-482-6444